Central African Plants
A Photo Guide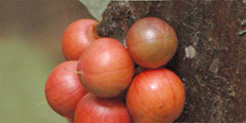 What are you looking for?
Check Other Regions
Project & Partners
After the success of the West African Plant Photo database, we decided to extend this into Central and East Africa.
This became possible through the generous contributions of numerous co-workers who provided their photographs (see below). If you would like to contribute quality photos (with locality data) please contact us.
List of photographers:
For a complete list of photographers please have a look at the Project & Partners page at our African Plants portal.
Main participating institutions are indicated by their logos (see below). Please visit their homepages to find out more.